Reactor internals
Euroslot Pars provides equipment and solutions for catalytic reactors for new projects, replacement or revamping. Our team is comprised of skilled people with more than 30 years of experience working on the design, manufacturing, and installation of highly critical catalytic reactors internals for the major Oil and Gas companies and process licencors. Project management and coordination are handled by Euroslot Pars that will be your unique contact, handling the entire project. Our common objective is to carry out your projects at the highest level of performance so that you may rely on us for other projects. You can always trust us.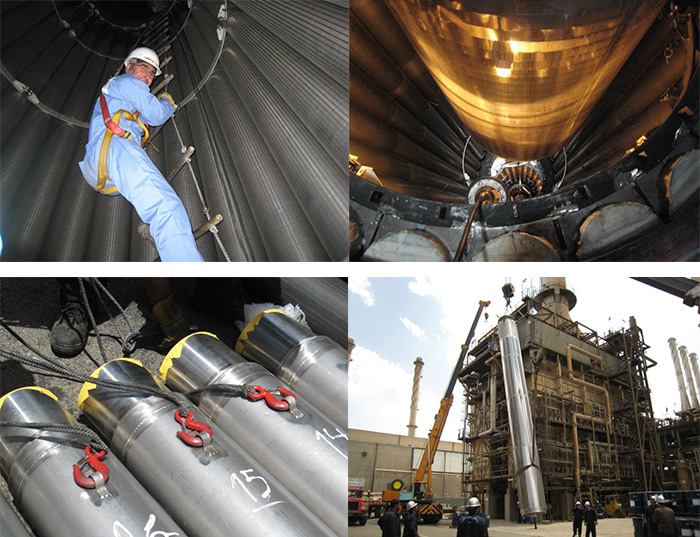 Vessel Internals
Euroslot Pars propose a wide range of internals for media retention which are used in different process because of their very high mechanical resistance, important open area, precision and design flexibility make it a high performance equipment that fits all applications in high or low temperature
Euroslot Pars Internals is made from welded profile wire on supports designed according to data sheet provided by the customer. This assembly is an anti-clogging process because the profile wire shape allows only two contact points and a large open area.
The V-Wire internals are used principally for two below process.
DOWN FLOW REACTORS
Inlet distributor

Support grid

Collector Basket

Liquid Distributor Tray

Quench Mixing tray

Beams
RADIAL FLOW REACTORS
Inlet distributor

Centerpipe

SCS Basket®

Scallops
The down flow reactor requires internal with very high resistance to collapse or buckling and V-wire screen exactly meet these constraints.
Due to their strength characteristics and their very long lifetime, internal in profile wire are used as media support in fixed bed reactors such as hydrocracking and desulfurizing.
Radial flow systems produce a smooth surface in contact with catalyst, a higher yield, less pressure drop across the bed and this advantages make it a high performance equipment that fits different process in high temperature such as: Ammonia synthesis converters, Catalytic reforming, Hydrodesulphurizing units and so forth.